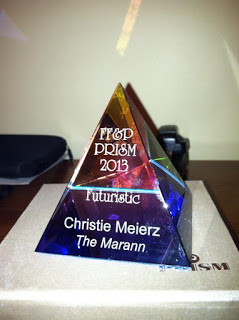 The Marann won the 2013 Prism award, Futuristic category! This is given by the Fantasy, Futuristic & Paranormal chapter of the Romance Writers of America (one of its largest chapters).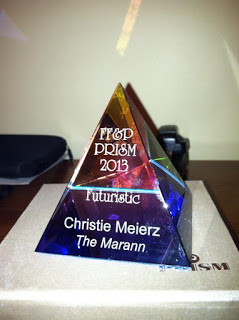 I was stunned. They gave me a mic, and I don't even know what I said. I think I said 'thank you.' I hope I did! Because — I can't believe it. When they called the third place finish, and it wasn't me, I could only think, "I didn't come in last!" and I expected to hear my name next. But it was not me, and I'm afraid my higher faculties shut down at that point and I made the same noise I make when I think another car is about to hit our vehicle. I think I said, "Oh my God!"
It's all a blur, really.
The past 9 months are a fairy tale, from uploading The Marann to Amazon, to seeing it hit #2 in Space Opera and top 500 in the Kindle store, to landing a book contract, to winning an award.
Don't pinch me. I don't want the dream to end!