As some of you know, I had my right hip Totally Replaced in December, and the past two months have been largely devoted to regaining the mobility I lost starting with a cycling accident ten years ago. But now the pain meds are out of my system, I'm able to write again – and I am absolutely thrilled to be going to my first Boskone this coming weekend!

If you're in the Boston area, consider going; it promises to be a great weekend.  And I would love to meet more of you!  Here's my schedule:
Friday, 7:00 PM
Room: Harbor II
Writing: Dialog
"No one talks that way!"
"I do."
"Well, okay, but your characters aren't all you. How about writing the way other people talk?"
"Okay, let's have the panelists talk about that …"
Vincent O'Neil (M), A.C.E. Bauer, John Chu, Christie Meierz, Bruce Coville
Friday, 8:00 PM
Room: Marina 2
The Ripper
Fiction's bad guys may be a dime a dozen, next to the real thing. One of history's most mysterious and infamous serial killers, Jack the Ripper continues to be a cut above. How has his dark shadow inspired villains in fantastical fiction since he faded into darkness more than 125 years ago?
Dana Cameron (M), Christopher Golden, Leigh Perry, Christie Meierz, E.J. Stevens
Saturday, 4:00 PM
Room: Marina 3
Writing: Pinning Down Your Plot
Complicated plots need proper handling to keep from growing legs and walking away. Writers who lose control of a twisty tale can confuse and/or alienate their readers. But just how do authors manage a complex story line? Come hear their tips for keeping track of the trickiest of plots.
Steven Popkes (M), Ken Altabef, Sharon Lee, Christie Meierz, Vincent O'Neil
Sunday, 10:30 AM
Room: Independence
Reading: Christie Meierz
Christie Meierz
Sunday, 1:00 PM
Room: Griffin
Broad Universe Group Reading
Join members of Broad Universe — a nonprofit association dedicated to supporting, encouraging, and promoting female authors of science fiction, fantasy, and horror — as they read tidbits of works and works in progress. Celebrate 16 years of "Broads" with Randee Dawn, Elaine Isaak, Anna Erishkigal, Lisa Hawkridge, Christie Meierz, and Roberta Rogow. Hosted by LJ Cohen.
Sunday, 2:00 PM
Room: Harbor III
How to Kill … a Character
Death shouldn't be easy. Killing characters within a story shouldn't just glorify death, or play to prurient interest. How, when, and why should you end a character so that it serves the greater purpose of the story? Is anyone really safe within a story?
Sarah Smith (M), Charles Gannon, David Gerrold, Christie Meierz, E.J. Stevens
And the household has a new denizen….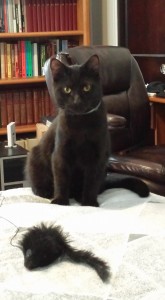 Meet Banichi, a black shelter-kitten we adopted around the time of my surgery. He makes an admirable Head of Security, for now.
What can I say? He makes me smile.