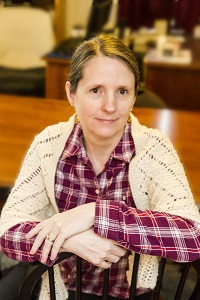 Christie Meierz writes space opera and science fiction romance set on a world of empaths at the edge of a dystopic Earth empire. Her published works include her PRISM award-winning debut novel, The Marann, two additional novels (Daughters of Suralia and The Fall) and a collection of short stories, Into Tolari Space. She is a member of the Romance Writers of America, spent 10 years raising sheep in upstate New York, and has been declared capable of learning Yup'ik.
Christie now lives in Pittsburgh with her mathematician husband and an assortment of stuffies. When she's not writing, she writes about writing on her blog, Meierz Musings, her personal Facebook page, where she welcomes comments and friend requests, and her Facebook Author Page.
Christie says:
I really enjoyed doing this interview on Get Lost in a Story – come see which cartoon characters I would cast in The Fall, and my first published haiku!